A few years ago, I thought the success of Timbaland's Shock Value album was a novelty. Producers can have success, but they're just not meant to be household names if they can't do something else. That his Shock Value II release did significantly worse on the charts and radio seemed to confirm my suspicions. But that's not entirely true at this point. There's a reason that the Grammy Awards were able to get away with a huge tribute to dance DJs who don't sing at their last ceremony. The cache of producer clout is rising fast as more and more labels clamor to jump on the latest trends in digital and dance music.
Two years ago, a DJ/producer like David Guetta getting multiple Top 20 hits off of one album would be unimaginable. A crossover hit from the dance charts was always a possibility. It's how people like Enur can score a hit every once in a while. However, in those cases, normally the guest artist/singer is the one credited for the song. The vocalist is who we can connect with even if the DJ/producer is the one who put in all the work.
Yet, listening to Top 40/Contemporary Hit Radio stations in recent months, when a David Guetta track is played, it's credited as "David Guetta featuring [guest]," not "[guest]." You could argue that Usher, Nicki Minaj, or Sia are the real draw. The fact still remains that somehow, the rise of dance/club music into mainstream culture has seen an equal rise in the recognition for DJ/producers.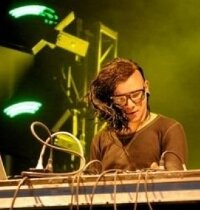 It goes beyond DJs just getting credit. They're being recognized in big ways. Remember Skrillex being a surprise Best New Artist nominee and actually winning more Grammys than any other nominee in that category? His music is suddenly everywhere in advertising, films, and TV shows. People know who Skrillex is even if they don't understand what he's doing.
Then there are the singers who crossover from being well-known and well-credited producers. Ryan Tedder of One Republic was been scoring a lot of hits for other artists like Kelly Clarkson and Beyonce long before his band was given a chance at a record deal. Neon Hitch produced for a bunch of dance acts before a label gave her some promotion.
The difference between these modern acts and an older industry crossover story like Carol King is intention. People like B.o.B. and Bruno Mars may be having successful solo careers right now, but they're still pursuing work as producers with more press than usual. You're just as likely to read a print article in Billboard (or like publication) about a new artist as you are to read about a new DJ/producer crossing over with an album or single. Working behind the scenes has never been hotter in recent memory.
The reason the trend sticks out for me is simple: the people making the music are starting to become household names. If the trend continues, who knows how many aspects of the creative industry will suddenly be recognized by the public. Will songwriters get their due without having to judge a reality show? Or will this emergence of DJ/producers stop when the sound of the lubs inevitably shifts in a new direction?
Best to live in the moment and appreciate what we have. The music industry is nothing if not fickle. Embrace the trends that make you happy and hope they become evergreen in the long run.
Thoughts? Love to hear them.