One of my favorite shows to write about has been RuPaul's Drag U. Off-kilter contestant writing really abusive comments here aside (scrubbed and banned, hence the comment policy, soon to be amended as I turned off moderation), it was so much fun to write about. It's a positive show that only takes the well-being of the contestants seriously. Everything else is a romp through the ins and outs of drag absurdity.

Season 3 will debut with a whole bunch of new drag professors on 18 June. Joining the faculty are champion Sharon Needles, runner-up Chad Michaels, should have been runner-up Latrice Royale, and Sketchy Details favorite Willam. Raja, Alexis Mateo, and Delta Work are also making their Drag U debuts.
Returning faculty include Lady Bunny, JuJubee, Manila Luzon, Raven, Shannel, Alexis Mateo, Mariah (*!*), Morgan McMichaels, and Pandora Boxx. I wish that list included Tammie Brown. They still haven't found a replacement professor to walk the children through nature.
With this cast, I think Drag U will hit its stride. These are all smart, funny, and talented queens who aren't afraid to read one minute and hug the next. I'm not aware of any big bad rivalries between these contestants that can cause tension in the work room.
The one big question is how often the new queens actually appear. Previous professors like Nina Flowers and Tammie Brown only did one episode over the course of the season. Will anyone have too many scheduling conflicts to appear more than once? I hope not. I like all of them and want to see them more than once to get a feel for their style.
Here's the trailer for the new season.
The recaps will be returning, naturally. Those are fun and easy to do. I only cover the highlights. Bad weeks will be pre-empted by photos of Mariah, like this one.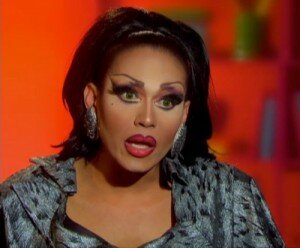 Willam will rotate down week cover duties. With this cast, though, it looks like we might not need covers.
Are you excited for season 3? Sound off below.