I decided to put the time in to watch the entirety of Death Note over the weekend. It is a 37 episode anime series adapted from the manga series of the same name. Essentially, it's a twisted detective story/crime thriller hybrid. A super intelligent high school student named Light finds a supernatural notebook that allows the owner to kill anyone by writing their name and imagining their face. Light begins to kill all of the violent criminals appearing on the news, attracting the attention of L, the world's top private investigator and Light's equal in every way. From there it's a slow trek to any sense of resolution, with tons of repetition and a lot of style to distract from the pace.
In a lot of ways, Death Note reminds me a lot of another detective show currently airing: The Killing. This show follows the investigation into the murder of a teenager. Season one has 13 hour long episodes that only cover two weeks of the investigation. The case is not resolved by season end. Season two--another 13 episodes--promises to reveal the killer in the last episode. The performances, style, and investigation are interesting. It's just the information is revealed so slowly that you might lose interest in who killed poor Rosie.
I'm not willing to call a shift toward slow and methodical plot pacing a trend on television at this point. Long story arcs driving prime time series are not common. There are overriding arcs--The Big C has coping with the cancer diagnosis, Glee has nationals, etc.--but the individual episodes are more contained. Longer arcs are typically saved for genre shows, but even American Horror Story and Fringe break things up with stand alone episodes.
The issue at play with all of these decisions is pacing. How fast do the writers want you to realize what's happening? How much information will they give you at any given time? How much time passes in a given episode? Where is the story focused?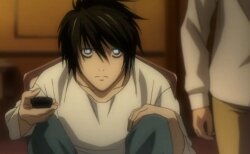 In the case of Death Note and The Killing, there is no sidebar content. If you're not dealing with the crimes, you're dealing with the lives of the people connected to the investigation. They're all consuming narratives that rely on the novelty of the story arc and character development to retain viewers. There's also a certain emphasis on style.
Both of these shows have a distinctive style. The Killing is simultaneously pale/dreary with supersaturated environmental elements. The grass will jump out at you more than the people investigating in a field. There's a common joke at this point about the presence of rain, but it is a moody detective series. Rain makes sense.
Death Note is animated and hyper-stylized noir. As soon as Light or L begin to piece together a plan in their minds, the world is transformed. Everything is gray scale except for eyes and hair. Light is bright red, L dark blue, and Light-stalker/enthusiast/ally Misa bright blue. Space and time fail to exist any longer in their imagination.
When it takes so long to make any progress at all in a story, is a strong visual style enough to keep your interest? I don't think so. It comes down to how the story is told. And in the case of long form storytelling on TV, that's all about pacing. If the pacing or character development is too slow, you'll lose the audience before you resolve the story.
The Killing has a major inertia issue. It's not that the story is taking too long to unfold. The problem is that the writers don't know how to maintain the pace without frustrating the viewer. Can you really expect people to stick around for a detective show where a red herring is explored to the end almost every week? The Killing is taking a serpentine route to its conclusion. It's covering a lot of ground in each episode, but it's not really advancing the plot.
Death Note has the other issue going on. The story moves at a quick pace, even if time itself is moving slowly. The characters, however, are static and underdeveloped. You learn everything you need to know about Light, L, and everyone else as soon as you meet them. Their motivations and approach to the investigation/crimes do not change so long as they are in their original states. The overriding story is hindered by the character development issues. Why should you care who wins in the end if the protagonists are Mary Sue's and everyone else is static?
I'm drawn to slow and methodical storytelling. Charles Dickens is one of my favorite authors and I love to sink into a two+ hour film with small stakes and oodles of character. The problem with this long and slow approach on TV is the episodic format. The genre is designed to be told in installments.
If you want to tell a twenty hour continuous story over the course of a few months (doled out a half hour or hour at a time), you need to find a way to keep the audience interested. This is why shows like The X-Files have monster of the week episodes. You go off track for a week or two in order to recharge the audience. It's the intermission at a play or halftime at the football game. Even then, if you put the break in at the wrong part of the story, you lose interest. Anyone else remember the outrage when Trey Parker and Matt Stone inserted a nonsense Terrence and Phillip special in between the two-parter about Cartman's real father?
Do the challenges mean that people should avoid creating long form stories for TV series? I don't think so. Some stories need more time to develop. Some of those stories could make for interesting television. It comes down to how much work the writers are able to put in to get everything mapped out in a way that makes sense. There needs to be a delicate balancing act between character development and story pacing that stays internally consistent. It's not simple, but I would imagine getting it right is rewarding.
Thoughts? Love to hear them.